With the NAB AFL Draft coming up on Wednesday (27/11/2019) we have decided to out together the predicted first round picks that are most likely to happen along with a few surprise packages.
1. Gold Coast (Matt Rowell)
Matt Rowell is the best available player and seemingly deserves pick no 1. The last game that involved Rowell ended with him receiving the best player on the ground in the NAB League Grand Final against Eastern Rangers. This title was equally matched with his performance of 44 disposals and 2 goals on the day. The 178 cm Midfielder averaged 29.2 disposals, 7 tackles per game and scored 11 goals throughout the 2019 season.
2. Gold Coast (Noah Anderson)
Noah Anderson joins Matt Rowell as best mates at Gold Coast in what may be the most obvious top 2 of all time. Anderson can join Rowell as a big, versatile ball winner in midfield, averaging 28 disposals as an Oakleigh Charger, to immediately bolster Gold Coast's young and promising midfield. But where his value truly shows is his versatility to float forward in Dangerfield or De Goey fashion. His qualities are his explosiveness, marking and goal sense, all due to his unique frame.
3. Melbourne Demons (Hayden Young)
Dandenong Stingrays defender Hayden Young is predicted to go 3rd in this years AFL draft to Melbourne Demons. Young's standout traits have including the best kick in this years draft has settled his place in the top 3. The 18-year old averaged 22 disposals and 5.3 marks during the carnival, playing behind the ball and controlling the play for Vic Country. Furthermore, his vision to find targets and play from the back has placed him under the spotlight with a number of outstanding performance in the Under 18 Championships. The prediction that the Demons will pick him in the draft would be well judged as they need a replacement and improvement over Michael Hibberd.
4. Greater Western Sydney (Luke Jackson)
The clear best ruckman in the draft, Luke Jackson has left journalists indecisive as to where his quality lands him, some believing he could be taken as a top 3 pick, whilst others believe he could slip out of the top 10. Relatively short for a ruckman, Jackson's aggression and endurance can make him one of the most dangerous and bashful ruckmen for the future, especially with his follow up efforts when the ball falls to ground level. While they have potential ruckmen in Flynn and Briggs, GWS would love a ruckman that can float forward and rotate with one of Flynn and Briggs, and picking up Jackson would sort out their ruck stocks for the next decade.

5. Sydney (Tom Greene – GWS match bid)
Tom Greene could easily contest with Anderson as the runner up in terms of quality in the 2019 draft however a bid for him is unlikely from Melbourne who look for someone in more of a flanker role. Sydney would very much love a big bodied midfielder as a suitor to the aging Josh Kennedy. Expect GWS to be inactive in the 2020 draft as they utilise future picks to match a bid. While most certainly not in need of another strong bid bodied midfielder, GWS would love very high quality for their future, and expect the cheap offloading of 2017 first rounder Aidan Bonar to be to make lee-way for Greene. Offers for trade would most likely come from Adelaide and Sydney, with Melbourne also in the mix though unlikely since they look keen on Young and would not like the risk losing him for a pick upgrade of some sort.
6. Sydney Swans ( Sam Flanders)
Another top end midfielder that can offer a lot to a rebuilding Sydney's midfield could be Sam Flanders. He plays as an explosive midfielder that can float forward and offer just as much in the forward line if not more than he does in midfield. He was also one of the best performers in the draft combine, ranking top 10 in the vertical jumping tests, agility test and yo-yo test.
7. Adelaide Crows (Fischer McAsey)
The best key backman in the draft, McAsey is a versatile strong marking defender that Adelaide have expressed great interest in. After a busy trade period the Crows are lacking in tall depth, and McAsey can provide some coverage to this issue with his versatility, allowing him to play forward if required and be dangerous up front with his strong contested marking ability.
Fremantle Dockers (Lachie Ash)
A line-breaking rebounding defender who opens the game and can transition from defence to attack seamlessly using his speed and agility. Furthermore, Ash is rated to have one of the best kick in this years NAB AFL draft. Noted to have similar attributes to Essondon's Adam Saad, recording a level 21.4 in the YOYO test. After losing Bradley Hill to St Kilda, Fremantle would want to draft Ash as a key ball mover and rebounder within Fremantle's side that can open play up with excellent evasion and vision.

9. Fremantle (Deven Robertson)
An area Fremantle was greatly exposed in was in midfield ranks throughout the 2019 season, and investing in a Larke medalist would bolster their midfield, perhaps even immediately. Averaging 30 disposals per game and given the prestigious reward of All Australian captain. An inside midfielder that can spend a little time rotating towards the outsider side, the only hold back in Robertson's game is his questionable kicking.

10. Carlton Blues (Caleb Serong)
A rebuilding Carlton would love all the top end talent they could get to rejuvenate their list, and an excellent suitor for Pattrick Cripps in their midfield would be Caleb Serong. Quite easily the best midfielder left on offer in this phantom draft, Serong is so highly rated due to his aggression and contest ability as an inside midfielder. His elite endurance, strength and consistency make him one of the best extractors of the ball in the draft.
11. Melbourne Demons (Cody Weightman)
The position Melbourne would most certainly like the invest their future stocks in is a small forward role, and while a bid on Ian Hill could be a possibility, this Vic Country All Australian could offer Melbourne the crumbing small forward with endurance and unpredictability they need. Weightman's other specialities include his high flying athleticism which proved their quality in Weightman's top 10 jump tests at the draft combine.
12. Hawthorn (Dylan Stephens)
Dylan stephens from Norwood/South Australia should be picked around pick 10. The South Australian had a strong eason across all levels earning him the spot in the first round. The 18-year-old averaged 23.5 disposals during the Under 19 Championships and was named in the All-Australian team. The left footer was used as an outside midfielder and had an outstanding finals series in the SANFL. Due to his strong performances and movement around the field, Stephens has earned comparisons to West Coast's Andrew Gaff and GWS midfielder Josh kelly. Hawthorn would happily take a winger.
13. Port Adelaide (Liam Henry – Bid matched by Fremantle)
In strong need of a small forward, expect Port Adelaide to bid on Liam Henry with their first. While an x-factor with his speed, his class and smartness overpowers them as his main traits as a threatening small forward. Fremantle may hope for a bid to come later but should still be content with where the bid comes as many suggest Henry could be bidded on earlier.
14. Port Adelaide (Will Day)
A clever half back with excellent foot skills, Day could add class to Port Adelaide's backline as well as provide cover for the loss of Dougal Howard. Relatively tall for a half back, Day's light frame could prevent him from making an impact in his first season but Port Adelaide would like to gain the local boy for their future.
15. Western Bulldogs (Brodie Kemp)
The biggest question mark in the draft, Brodie Kemp follows a devastating yet common story for high prospect draft picks. The uniquely built utility could be considered a risk due to his major ACL injury which kept him out for the end of the season and will likely keep him in recovery for all of the 2020 season. But prior to his injury, Kemp could have easily been routed as a top 5 pick and could be considered a major slider when he comes to Western Bulldogs at pick 16. His frame has seen him play all over the ground, mainly as a key defender with experiments in midfield, but should Kemp's experiments in midfield pay off, he could become a powerful midfielder who adds an entirely new dynamic to the bulldogs' midfield.
16. Geelong Cats (Miles Bergman)
Expect Geelong to attempt rising upwards in the draft due to their keen interest in Jackson, Robertson, Flanders and Kemp. Should they remain around this mark, they could enjoy the mobile and powerful midfielder Miles Bergman as a replacement for Josh Selwood. While Bergman does not currently average a high number of disposals, his developing frame give him plenty of upside and his ability to float forward could be very handy for Geelong.
17. Gold Coast (Will Gould)
Will Gould is another SA boy who has matured over the season to finish strong and to land somewhere in the late first round. Given his big body, it's not a surprise clubs have been keen on his signature with the 18-year-old averaging 21.5 disposals and 4.5 marks in the SANFL. Furthermore, Gould is also leading the competition for rebounds taking the kick-out duties for Glenelg. His transition from defence to attack is a standout with outstanding highlights available to showcase his speed.In addition, Gould is also considered to play as a third tall in vital situations as he is a strong competitor for the air ball. Gold Coast are one team that have been talking to Gould about securing his services for the future as they are in need of a half back flank and the addition of him being able to play in different positions is a major bonus.

18. Port Adelaide (Trent Bianco)
The classy midfielder could add depth to Port Adelaide's current midfield and a new edge to it in the near future. Premier captain of the Oakleigh Chargers, Bianco's excellent foot skills and vision as well as good leadership make him a great candidate for Port to take as their midfielder in this draft.
19. Geelong Cats (Josh Worrell)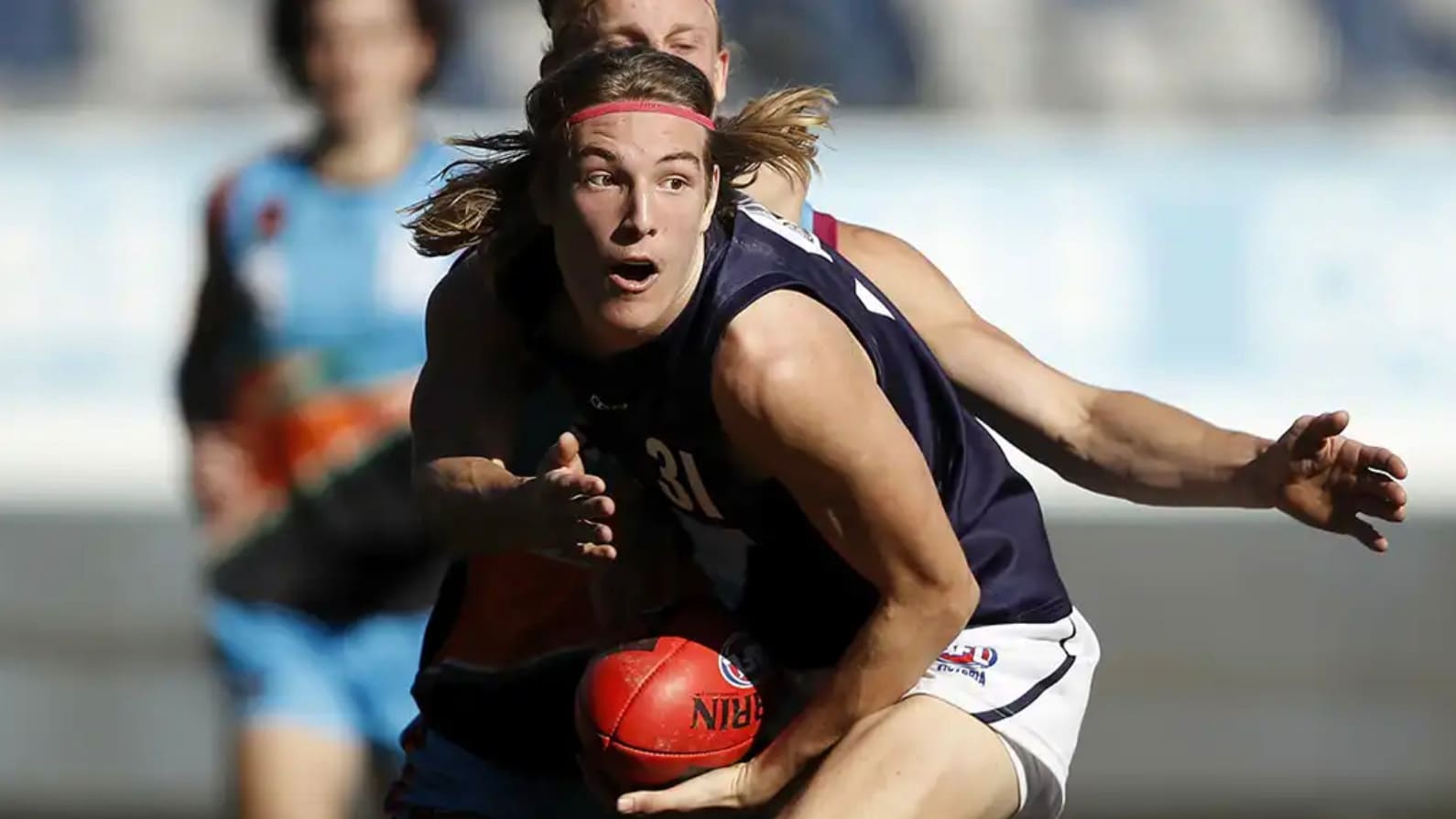 Josh Worrell is a versatile utility who can play anywhere on the field. He has been used as a key position player at either end and can also push up onto the flanks and play on the wing. He booted 4 goals against West Australia in his last game as he ended as Vic Metro's leading goal-kicker. He would suit Geelong as a utility who can play up in the forward line alongside Hawkins and Ratagoulea. Worrell has been compared to Westhoff as he can have a huge impact anywhere on the ground.
20. Port Adelaide (Dylan Williams)
At the start of the year, Williams was in contention for a potential No. 1 pick, but struggled for consistent performances over the year due to injuries. He is touted to be a bargain for late first round and he is that player who can grow in an AFL environment rapidly. His craftiness and smart plays around the goal make him extremely damaging as he can use both feet. In addition, he has shown glimpses playing key defender, while also winning clearances in the midfield for the Oakleight Chargers this season. Due to an injury disrupting year, he is a great unknown but, with plenty of X-factor, he will be a great addition to Port Adelaide as a replacement for Sam Gray.
21. Richmond (Finn McGuiness – Bid matched by Hawthorn)
The standout performer of the draft combine could attract an early bid through his recent spike in scout interest. It is difficult to find an area Richmond need to improve in with their dominant squad, but a tall athletic midfielder could be of some interest for the future. Hawthorn would be satisfied with a bid coming this late as many routed him to be top 15 worthy.
22. Richmond Tigers (Jeremy Sharp)
There is no doubt recruiters would have increased their interests in Sharp due to his dominant performance at the draft combine, including his sprint and Yo-Yo times. An excellent mover of the ball, Sharp's kicking and athleticism can be utilised on the wing, off of half back or potentially in the middle. The lack of immediate impact required with Richmond's first rounder would let them be a lot more comfortable with taking Sharp who is raw but has a lot of upside.