In this 5-part series, I will be listing the 5 best players of all time for each position; next up are the small forwards!
The small forward (SF), also known as the three, is one of the most important positions in the game of basketball that includes some of the best players of all time. Small forwards are generally quicker, shorter, and leaner than power forwards and centers but are larger and taller than the guard positions. It is also considered to be the most versatile of the five positions as they can be held responsible for the scoring, playmaking, rebounding or defending.
Honourable Mentions:
Kawhi Leonard – Kawhi Leonard proved to everyone in the 2018-19 playoffs that he deserves to be known as one of the best small forwards of all time. The only thing missing from his already impressive list of achievements is an MVP. Coming into the league he was considered as just a defensive player but after working vigorously with Coach Popovich for years, he improved his offensive game to an MVP level as he finished as a top 3 candidate in 2017. He is the recipient of 2x Finals MVPs for two different teams in different conferences taking the Toronto Raptors to a championship as he showed the world one of the greatest runs of all time after averaging 30.5 points per game, 9.1 rebounds per game, and 3.9 assists per game. It is only a matter of time before Leonard solidifies himself as a top 5 small forward and soon enough with more success he could be considered as one of the best of all time, period.
James Worthy – James Worthy had one of the luckiest starts to his career as the Los Angeles Lakers who were the defending champions had received the Cleveland Cavaliers 1982 first round pick a few years prior in a trade. The Cavaliers finished with the worst record in the previous season therefore giving the Lakers the 1st pick in the 1982 draft. This is the first and only time a reigning champion received the first overall pick. Worthy was a 3x champion with the Lakers and averaged single season highs of 21.4 points per game, 6.4 rebounds per game, and 4.7 assists per game. These numbers don't sound fantastic but the thing to remember is that he was on a team with Magic Johnson, Kareem Abdul-Jabbar, Byron Scott, and many other legends who contributed to the showtime era success. Worthy finished his career with 7x All-Star appearances, 2x All-NBA selections, was named as one of the 50 greatest NBA players of all time in 1996 by the NBA themselves, the no. 42 retired by the Lakers, and was given the infamous nickname "Big Game James" due to his ability to dominate and bring big performances in clutch games.
Elgin Baylor – Elgin Baylor never won an NBA Championship, never won an MVP, and never won a single season scoring title. However, Baylor was still one of the best small forwards to grace the game of basketball. His shortcomings in accolades should not be a criticism towards him as his career timeline clashed with the Bill Russell led Boston Celtics who won 11 championships, his scoring years clashed with the forever dominant Wilt Chamberlain who at one stage averaged 50 points per game for a season. As for Baylor's impact and abilities on the court, he could do everything and anything. At a stocky 225 pounds and 6 foot 5 inches, his career averages were 27.4 points per game, 13.5 rebounds per game, and 4.3 assists per game. Baylor went to eight NBA Finals with the Los Angeles Lakers and finally retired nine games into the 1971-72 season due to injury, this unfortunate timing caused Baylor to miss two incredible achievements: the Laker's NBA-record of 33 consecutive wins and the championship they won later that season. The Lakers however gifted Baylor a championship ring despite him not being an active player. Regardless of all the record books and accolade profiles of Baylor, every true NBA fan and Laker fan understands the contribution Baylor had to the game and to the Lakers organisation and know that he deserved that tough-fought championship ring.
5. Julius Erving
Julius Erving is not only one of the best small forwards of all time, he also has one of the best nicknames of all time: Dr. J. His impact on the game goes criminally underrated as he helped popularise the modern style of play that emphasizes athleticism and playing above the rim. Dr. J was widely considered as the best-known player in the American Basketball Association (ABA) when it merged into the NBA after the 1975-76 season. He was also the only player in history to have won an ABA MVP and an NBA MVP. After joining the NBA, Dr. J was picked up by the Philadelphia 76ers and thus began an illustrious NBA career that lasted 11 seasons that included 11x All-Star appearances, 1x NBA MVP, 1x NBA Champion, and named one of the 50 greatest players in NBA history in 1996 by the NBA. With the ABA and NBA statistics combined, Dr. J's career averages were top tier as he averaged 24.2 points per game, 8.5 rebounds per game, 4.2 assists per game, 2.0 steals per game, and 1.7 blocks per game. Without his revolutionary athleticism and flashiness above the rim, the modern NBA may not be as worldwide and well-known as it currently is.
4. Scottie Pippen
Everyone who follows basketball in even the most remotely way possible understands that Michael Jordan would never have won the 6 championships without Scottie Pippen by his side. Pippen was drafted 5th overall in the 1987 NBA draft by the Michael Jordan led Chicago Bulls. Over the course of his 17-year career, Pippen was named to eight consecutive All-Defensive First Teams and three All-NBA First Teams. He was also a 7x All Star and was named as one of the 50 greatest players in NBA history by the NBA themselves in 1997. Throughout his career, Pippen ran the court like a point guard, attacked the boards like a forward, and hit shots from range like a shooting guard. As previously mentioned, there was no Jordan without Pippen. However, it also works the same way round as Jordan acted as a mentor throughout Pippen's early years as he assisted him in refining his skills and developing new ones. They often played one-on-one outside of practices, simply to sharpen each other's game. He is considered as one of the best defensive players of all time and had single season highs of 22.0 points per game, 7.0 assists per game, 8.7 rebounds per game, 1.2 blocks per game, and 2.9 steals per game. Pippen retires with a legacy that goes untarnished and will forever live out in the eyes of NBA fans past, present and future.
3. Kevin Durant
Kevin (KD) Durant has been called numerous names by NBA fans after his controversial move to Golden State Warriors but this however has not taken away from the fact that KD is one of the highest skilled players of all time. Listed now at 6 foot 10 inches, KD really looks like a 7-footer who can dribble and has the playmaking ability of a point guard, can hit shots from basically anywhere on the court and has debatably the best range of offensive moves of anyone in NBA history. Starting his career as the 2nd pick in the 2007 draft behind Greg Oden, he was doubted by many scouts and teams due to his lack of physicality and strength. KD was asked at the NBA Draft Combine to see how many times he could bench press 185 pounds, and he struggled to complete one. He said it led to one of the most embarrassing moments in his life and multiple trainers in attendance were visibly laughing at him. All KD needed to prove to the world that he was legit was just a basketball, no weights, no sprints, nothing else besides a basketball. When he was given the chance in his rookie season with the Seattle Supersonics (now Oklahoma City Thunder), he made sure to take advantage of it as he averaged a solid 20.3 points per game and won the Rookie of the Year award. KD spent a total of 9 seasons at the Supersonics/Thunder and averaged a whopping 27.4 points per game, 7.0 rebounds per game, and 3.7 assists per game. As previously mentioned, KD's legacy was impacted as he made the controversial move at the end of the 2015-16 NBA season from the Thunder to the Golden State Warriors who had just defeated the Thunder in the Western Conference Finals the previous playoffs. With this move, KD bought a lot of hate and dislike to his career but did include 3 Finals appearances and 2 championship rings. Therefore, adding to the already impressive résumé that included 1x NBA MVP, 1x NBA Finals appearance, 5x NBA First Team, 1x NBA Second Team, 4x NBA Scoring Champion, 1x 50-4-90 Club, and 7x All-Star appearances with two All-Star Game MVPs.
2. Larry Bird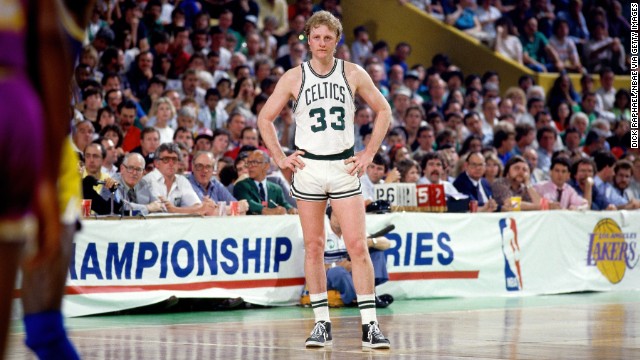 The Boston Celtics are the most successful team in NBA history; they have an abundance of world class and all-time legends that have worn the green uniform. However, only one of those players has actually earned the nickname 'Legend'. Alongside Magic Johnson, Larry Bird saved the NBA with the historic Los Angeles Lakers and Boston Celtics rivalry that dominated the 1980's. Bird is one of three players to win the NBA MVP award three times in a row; the only other players to accomplish this feat are Bill Russell and Wilt Chamberlain. He never appeared to be the most athletic, fastest or physically built player, but Bird more than made up for that with his determination, basketball IQ, and the grit and heart he showed in his play every game. There was no statistically weak part of his game as for his 13 year career he averaged 24.3 points per game, 10.0 rebounds per game, 6.3 assists per game, 1.7 steals per game, and 0.8 blocks per game. The 1985-86 Boston Celtics are ranked by Bleacher Report as the 3rd best team of all time and at the helm of the team was Bird himself. Bird often embarrassed his opposition with his vast array of offensive moves and performed skills that have never been seen in the league before. In his 13 active years, Bird was a 12x All-Star, 9x All-NBA First Team member, 3x NBA Champion, 2x NBA Finals MVP, 3x All-Defensive Second Team member, and 3x Three-point shootout champion. Revolutionary is an understatement to Bird's game and his contribution to the modern NBA has created the pathway for players like Curry and Durant who are primary shooters. To most fans he is a top ten player of all time and if his back stayed solid during his final years, who knows how much more impactful Larry Legend could have been.
1. LeBron James
LeBron James. Just the name itself marks fear into the opposition. How does a team stop a 6'9", 250lb human wrecking ball? LeBron moves faster than most guards, stronger than most big-men, and has the highest basketball IQ of all time. Simply put, he is unstoppable. Drafted straight out of high school with the first pick in the stacked 2003 NBA Draft, he was selected by his hometown team, the Cleveland Cavaliers. LeBron came into the league with debatably the highest expectations for a rookie ever as he had been in the limelight for close to 2 years before coming into the league. In his first ever NBA game against the Sacramento Kings, he dropped 25 points and set an NBA record for most points scored by a prep-to-pro player in his debut performance. His rookie season didn't drop off after that as he became the third rookie in history to average over 20 points per game, 5 rebounds per game, and 5 assists per game. The very next year, LeBron stamped his placed as a star as he averaged 27.2 points per game, 7.2 assists per game, 7.4 rebounds per game (also his exact career averages) and was named an NBA All-Star and a member of the All-NBA First Team. In his third season in the league, LeBron finished 2nd in MVP voting, led the Cavaliers to their first playoff appearance since 1998, finished with a career high 31.4 points per game for the season and won his first playoff series against the Washington Wizards before being outplayed by the Detroit Pistons. In the next season, LeBron carried the Cavaliers to the NBA Finals against the San Antonio Spurs with a starting line-up of Larry Hughes, Sasha Pavlovic, himself, Drew Gooden, and Zydrunas Ilgauskas. That season demonstrated his ability to lead a team of "nobodies" to playoff success. At the end of the 2008-09 and 2009-10 seasons, LeBron was awarded the NBA MVP Award and finished second in the NBA Defensive Player of the Year Award at the end of the 2008-09 season. The only glaringly obvious disappointment on his career at that point was his lack of playoff success and in Cleveland it didn't appear to be possible as they failed to bring in the help required to go all the way. That's why during the 2010 free agency period, LeBron got on TV and announced that he was taking his talents to South Beach and joined the Miami Heat alongside fellow 2003 draftees in Chris Bosh and Dwyane Wade. This led to years of media and fan scrutiny as the move was deemed "weak" and LeBron was considered a "ring-chaser". While only staying in Miami for four years he averaged a dominant 26.9 points per game, 6.7 assists per game, and 7.6 rebounds per game. In this time he won two more NBA MVP awards and won two NBA Championships for the 2011-12 and 2012-13 NBA seasons. While Stephen Curry remains the first and only players to unanimously win the NBA MVP Award, LeBron was 1 vote shy of winning that prestigious title in the 2012-13 season. All four seasons he was with Miami, LeBron made the NBA Finals, this continued on for another four years when he returned home to the Cavaliers. When LeBron returned, he didn't come back to a line-up of "nobodies", he returned to a line-up led by the skilful and high-scoring point guard named Kyrie Irving and the established rebounding stretch-four named Kevin Love. LeBron had marked his place in history as one of the greatest players of all time however; his post-season efforts confirmed him as the greatest ever in my book along with many others. LeBron was at a 3-1 deficit in the NBA Finals to the record breaking Golden State Warriors who had achieved a 73-9 NBA season record that season. Up until that point, no other team in history had comeback from 3-1 down in the Finals. That was until LeBron was placed in that position. He responded with back-to-back 41 point games in Games 5 and 6 to bring the series to a Game 7. He became just the third player in history to record a triple-double in a Game 7 of the NBA Finals and made a number of key plays, most noticeably "The Block" on Andre Iguodala which goes down as one of the best Finals plays of all time. This not only won LeBron his first title in a Cavaliers uniform, but won Cleveland their first professional sports title in 52 years. Now as a member of the Los Angeles Lakers, he is still putting up ridiculous numbers and is still known as one of the best players in the league at age 35 and is in a position to potentially win another championship with the added star-power of Anthony Davis. LeBron has achieved many incredible things in his career and to imagine that one day the NBA season will start and LeBron James will not be there is a thought most NBA fans can't bear to think about.